Practice Quit Study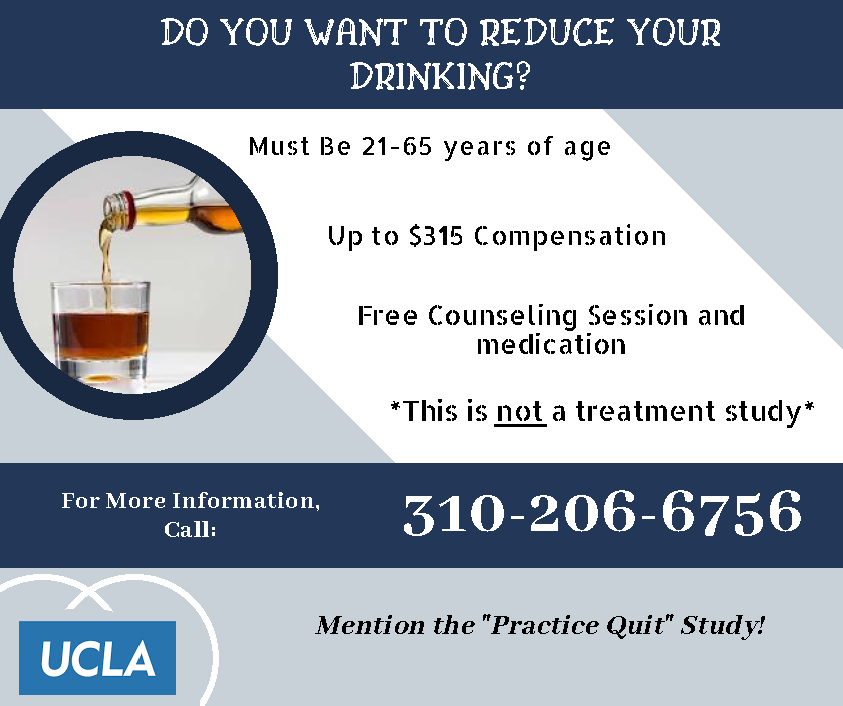 Do you drink alcohol?
Do you want to make changes to your drinking within the next 6 months?
If so, you may be eligible for a study at the UCLA Addictions Laboratory. The lab is seeking individuals ages 21-65 who are motivated to reduce their drinking within the next 6 months to participate in a new study. The study involves taking 2 weeks of medication (either varenicline, naltrexone, or placebo), coming in for daily visits, and a free counseling session. Participants will be compensated up to $380 if they complete all study procedures and visits.
Please call (310) 206-6756 to receive more information on how you can participate, and please mention the "Practice Quit Study".
---
Ibudilast Alcohol Study

Is your drinking out of control? Have you thought about cutting back or quitting drinking?
If so, you may be eligible to participate in a UCLA clinical trial of a new medication (Ibudilast) for alcohol problems. This 16-week trial consists of study medication, outpatient clinic visits, and compensation of up to $385. 
For more information, please call (310) 206-6756 and mention the "Ibudilast Alcohol Study."
---
Outpatient Treatment for Alcohol Use



Looking for Treatment for Alcohol Problems?
The UCLA Psychology Clinic is offering a new 12-week low-cost outpatient treatment program combining research with cognitive behavioral therapy. Participation involves weekly visits to the UCLA Psychology Clinic to attend therapy sessions and complete brief questionnaires and interviews. There will be a 2-hour intake session followed by 1-hour weekly sessions, each at $20/visit (copay).
For more information about this low-cost treatment opportunity, please call the UCLA Psychology Clinic at (310) 825-2305.
---
Additional Resources:
Treatment Resource Packet: Downloadable version
ProjectKnow: Popular Ways to Quit Drinking
Looking to quit smoking? The USC HEAL lab is currently conducting a smoking cessation study. For more information, please visit smokingstudy.usc.edu or call (323) 442-2598.